Sometimes you get a chance to move at school. I remember counting minutes until recess when we could finally use our pent up energy to whack big dodge balls at each other in overly competitive games of four square. The kids at Under Mountain Elementary School in Sheffield, MA and New Marlborough Elementary School in New Marlborough, MA didn't have to wait until recess on the sunny April, May, and June days I visited their school. Instead we started moving during math and science classes, exploring fractions, number sentences, friction, simple machines, animal movement, telling time, number recognition, 2- and 3-D shapes, area, perimeter, and skip counting all while dancing.
I've traveled to the Berkshires to teach for a few years now, working with teachers and students on how our bodies and how dancing as an art form can help better inform our learning and comprehension of math and science at the elementary school level. This year, Aurora and her grandmother joined me for the early drives south on I-91 through recovery-funded construction to spend long, dance-filled days in a variety of pre-K through 4th grade classrooms.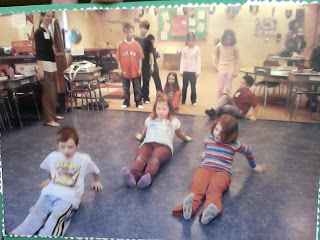 These pictures are from Jennifer DeAngelo's 2nd grade classroom at Under Mountain. The students were studying friction and together we tried sliding and rolling across bumpy and smooth surfaces in attempt to better understand where we feel more or less friction. We created a human wheel to feel how the wheel takes more of the work when rolling across a surface, while the object being wheeled around can relax some. There were raised hands, excited questions and answers, and moments of genius where an idea clicked.. "I feel myself sticking to the bumpy surface," said one kid. Another shared, "It's easy to roll because the part of my body connected to the floor keeps changing."
The kids pushed, pulled, and rolled each other, thinking about forces and gravity and how this would affect our next lesson on simple machines. I found myself more curious about what the big deal with friction is than I can ever remember, grateful that these active, engaged kids were asking me to step up and keep on learning as well.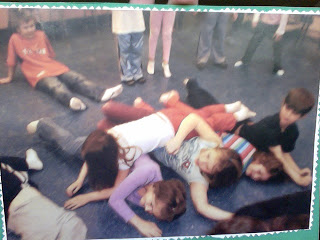 It is a gift to have teachers who are willing to risk the insanity of students dancing to funky music in their classrooms in order to access information in different ways. Perhaps a few more of adults need more time to just move during the day as well? I remember tapping my foot wildly at my desk in graduate school, grateful for my one class that allowed me to stand and walk around the room when offering my two cents to the conversation. I hand over the dry erase marker to kids during these classes, giving them a chance to write the words or numbers on the board that we are attempting to make sense of with out bodies and I find myself shivering with excitement because it means something. We are making something come to life by moving it, writing it, speaking it, and sharing it. This is multiple intelligences in action. This is different perspectives coming head to head.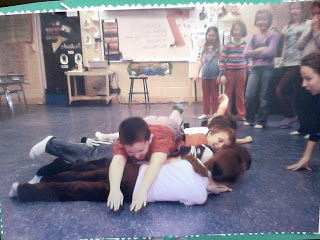 Let's commit ourselves to making sure our kids have multiple ways of learning and sharing what they know. Let's commit ourselves to not resting easy in our own learning experiences and being open to empathetic responses to our kids. But let's also share what we know and encourage kids to develop their own ability to empathize. Let's model kindness, engagement, and curiosity by seeing the limitlessness of what there is to experience and learn. Sometimes we'll get stuck -the human wheel won't be able to get started and our moving object slides off before it has a chance to make it across the floor - but we can try again and again and again. And hopefully, it will feel worth it.